Human Resources Executives Additional Information: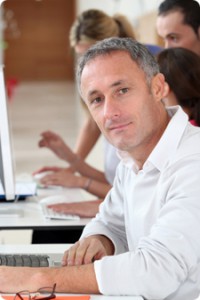 This newly formed virtual National Learning Network allows YOU the opportunity to hear from your human resource colleagues throughout America whereever you are…. your office, on the road or virtually anywhere your responsibilities take you.
Benefits of Membership
Members of the Senior Human Resource Executive Virtual National Learning Network will have 4 virtual meetings annually with a highly relevant presentation/discussion focusing on strategies, results and lessons learned.
Presentations are member driven and results oriented.
Quarterly meetings will include presentation and discussion by outside experts and/or members of the National Learning Network.
In addition to a presentation(s) at each quarterly meeting we will allow time for members of the group to ask questions of their colleagues in a focus group type setting. Each discussion provides all participants an excellent venue for open and honest sharing, learning from others, best or better practice identification, and great food for thought regarding high priority issues and opportunities of individual and collective members.
In addition to the virtual meetings, "requests for Information" (RFIs) is a popular service which yields high value and encourages NLN members to request important information from other members and providers throughout America. All members who respond to a given request will receive a summary of all responses. Reports are distributed within 10 days of a given request. There is no limit to the number of RFIs a member may request. All RFIs are housed on a secure website for members only.
A secure member only website where members can access contact information for all HR Learning Network members.  Included on the website will be all virtual meeting materials, all Request for Information Reports and any additional information the group decides to share in a content library.
Annual membership fee for the Senior Human Resource Executive Virtual National Learning Network is $249.
Benefits of Membership
Virtual meetings per year (1 ½ – 2 hours in length)
Unlimited requests for information
Additional conference calls as requested
Members of this National Learning Network
Consists of highly experienced, seasoned human resource executives from highly respected healthcare organizations throughout America.
These executives have substantial influence and responsibility for the human capital within their organization and all the areas within that arena.
Members will seek out and determine highly relevant issues/challenges affecting human resource executives today to determine topics for presentation(s) best practice or otherwise via the quarterly conference calls and/or webinars.
In addition to the presentation during the quarterly call or webinar, members will have the opportunity to hear certain questions and hear from human resource colleagues from stellar healthcare organization throughout America in their quarterly virtual meetings. This provides members of the group to utilize the expertise of the group members similar to a focus group discussion.